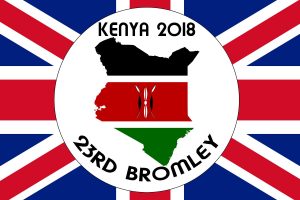 In August 2018, Explorer and Network members from the 23rd Bromley are going on an expedition to Kenya, alongside Harambee for Kenya. Harambee for Kenya are a UK based charity who have a number of safe houses in Kenya where they take homeless boys off the street and give them accommodation and education. More details about the charity can be found at: http://www.harambeeforkenya.org/.
Some of you may know that we ran a similar expedition back in Easter 2012 – more details about that trip, including pictures, can be found here.
The majority of the time in Kenya will be spent at one of the Harambee for Kenya safe houses, but there will also be a chance for the participants to get involved in some other activities. The last trip included a visit to Robert Baden-Powell's grave, a boat ride to see hippos, a safari and a chance to feed giraffes.
We will use this page to keep you up to date with the latest information about the expedition. Specific information for participants and their parents can be found here.