Megan Ward, who was one of six Explorers from the 23rd Bromley who were selected to attend the World Scout Jamboree in America in summer 2019. Below are some words that Megan wrote about her Jamboree experience: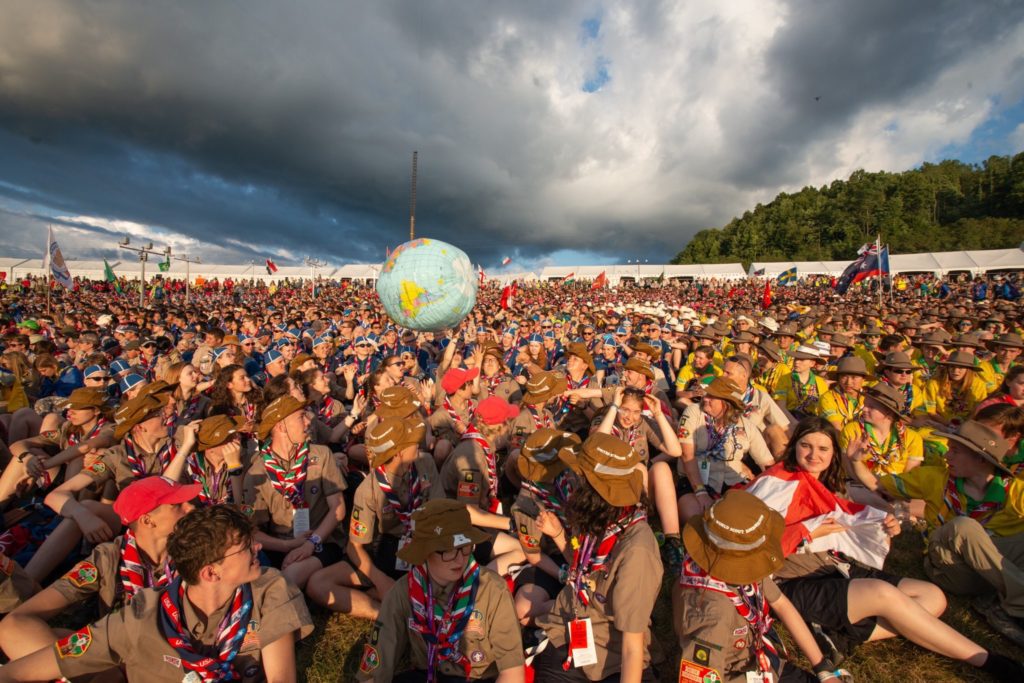 "Over a month has past since my return from the World Scout Jamboree and still I cannot really put it into words. I get asked "What was it like?" and strangely enough so many thoughts fill my head but the words escape me.  Words cannot describe!  So many memories and "pinch me" moments were made in those 20 days, from the sea of red and blue UK bags that welcomed me at 5am, as I arrived at Heathrow for departure, to the breath taking moment when standing on a mountain peak in Whistler, Canada. So many snap shots taken through my eyes saved to my memory.  Goosebumps form as I remember standing at Bechtel Summit as the sun set over 45,000 scouts at the opening ceremony, a world globe bounced above our heads and 160 flags, from every visiting country, fluttered in the distance.  Words cannot describe!  So many nationalities, spoken languages and cultures came together as one movement, the differences between us all proved no barrier. Saying hello to everyone I walked past became normal.  What an adventure.
All our training could not prepare us for the sights, sounds and experiences of World Scout Jamboree. Sightseeing in New York, Times Square, skyscrapers and the viewing platform over Manhattan.  Yellow American school buses were our transport and vast university campus' provided our overnight accommodation.  Arrival at Bechtel Summit, West Virginia gave us the realisation of the sheer scale of Jamboree. This wasn't just a campsite, this was a vast city, it was insane and was going to be our home for 12 days.  The opportunities were endless. Adventure activities ranged from extreme sports, shooting sports, aerial sports, climbing and aquatics. Hiking was an everyday occurrence in camp but also up to Mount Jack, the highest point on the Summit Bechtel reserve.  Base camp bashes formed festival type evening parties along with stadium shows.  Cultural Celebration day gave participants the opportunity to exhibit their country's culture and cuisine and to experience that of other countries which included music, dance, national costumes, games and food. The English tradition of Afternoon Tea found us making mountains of cucumber sandwiches to offer our fellow participants! The Jamboree theme was "Unlock a New World" with so many opportunities to become active in discovery, exploration and change projects. Raising awareness of global issues and creating a better world.  Participants were able to explore science programmes, communicate with astronauts on the International Space Station and become delegates of a model United Nations. So many opportunities to build knowledge and gain life skills. We traded badges, hats, scarfs and all form of memorabilia to create our everlasting WSJ memories.
A high tech Jamboree bought us Novus in the form of a wristband for each participant, which unlocked new friendships and enabled us to explore the hundreds of activities and experiences. Touching wristbands with another participant allowed us to share our set profiles so that we could stay connected whilst at Jamboree and for years to come. The WSJ App brought us daily news feeds, maps, information points, activity schedules and advisory warnings for heat, hydration and weather.
The closing ceremony brought an end to our Bechtel adventure, time to gather one last time.  A combination of music, lasers and fireworks filled the air. Novus wristbands also provided us with a surprise lightshow in the closing ceremony when every participants' wrist lit up to provide a blanket of coloured and then white spot lights, filling the stadium. What a send off!  Luckily for the UK Contingent this was not the end, our journey was still to continue. 
Washington was the next stop, Capitol Hill, the home of US congress and then taking in the true American game of baseball, watching the Toronto Blue Jays take on the Baltimore Orioles. Onwards to Canada for HoHo, our hosted hospitality in Vancouver.  Our host, 4th Squamish Scouts, welcomed us with open arms. Tobogganing, visiting the 2010 Winter Olympics site, swimming in chilly melted glacier lakes and hiking to summit views that were out of this world.
As we boarded the plane bound for Heathrow our journey was soon to come to a close but the friendships I had made and the experiences of the last 20 days will stay with me for the rest of my life. We landed exhausted but with an everlasting broad grin that represented the most amazing experience. 
And so as I finish, the above only touching the surface; words like insane, amazing, infectious, unreal, friendship, adventure, culture and journey of a lifetime fill my mind. I know for a fact that in years to come I will be telling my grand children about when I attended the World Scout Jamboree at 14 years old and had the time of my life. If you have the opportunity, take it, with both hands. Jamboree was, is and will continue to be, the best thing you will ever do. A truly life changing experience that will shape you as a person and give the skills, for life."
Megan Ward
Bobcats Unit 25 WSJ 2019
23rd Bromley Scouts