On Thursday evening our Group Scout Leader Jenny Owens attended an event in order to receive a very kind donation towards our planned development of the HQ.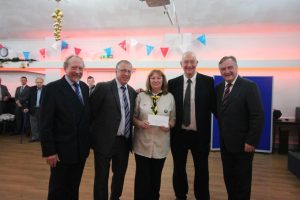 Pictured from left to right: Steve Harrington, Charity Steward of Godyngton Lodge; David Wilcox, Chair of 23rd Bromley Fundraising Committee, Jenny Owens, GSL 23rd Bromley, Richard Jones, Treasurer 23rd Bromley and Treasurer Godyngton Mark Estaugh, Provincial Grand Master, West Kent Masons
Godyngton Lodge gave £500 to the group and this was matched by a cheque for £500 from West Kent Masons. The money will go towards the Rebuilding Fund that the group has started to finance an upgrade to the Scout HQ, which will include new facilities including new toilets. The group are very grateful for this kind donation which will hopefully kick start a big fundraising push.
Keep an eye out for more details about our HQ project at upcoming events…