Thank you to everyone who supported our Pantomime – we had four excellent showings of Aladdin. A huge well done to all of the cast, crew and organisers. In particular well done to Nicholas Branch, Lucy Scothern and Cailtin Freese who were awarding with Oscars for their performances.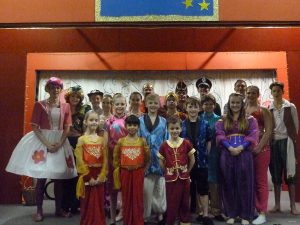 The money raised will be split between the Scout Group and the Stephen Jota Children's Centre in Uganda.  We will also be making a donation towards Poppy Branch (our Slave of The Ring's) fundraising for the World Challenge she is attending later this year to Malaysia.
As many of you know Erica Manthorpe a key stalwart of the 23rd and one of the loveliest, kindest ladies I have ever known sadly passed away last July.  It only seemed right to remember her in some way and in discussion with those who knew Erica the best; her family, they asked that we support the Stephen Jota Children's Centre in Uganda.
Preparations for next years Pantomime have already begun, so keep an eye out for further details later on this year.