COVID-19 may have changed the way we do things, but it won't stop Scouts camping!
Northumberland Scouts are organising a month-long Virtual Camp throughout April for anybody who wishes to take part.
Take up the challenge and let's keep on…
#VirtuallyCamping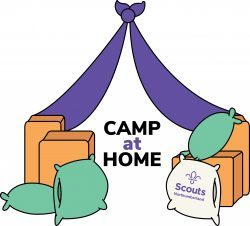 Beavers, Cubs, Scouts, Explorers, Network, Leaders, Parents, and all Young People interested in joining in the fun just have to:
Pack a bag
Build a den at home / pitch a tent in the garden/ hang up a hammock (whatever you can)
Sleep in your shelter of choice
Build a 'campfire' (real or virtual)
Take part in a "Scouty activity"
Help with cooking a meal
MOST IMPORTANTLY……. Each night you participate share a creative photo, video, blog, etc. to our social media with:
#CampAtHome
Please send photos to the 23rd Bromley Scouts Facebook page, or send them to your section leader, so that we can see people continuing to enjoy Scouting from their own homes.
Happy camping!