All sections within the group once again put on a fantastic Gang Show performance. With acts ranging from singing, dancing and comedy the two sell out audiences were well entertained.
Over 100 members of the group were involved, and were a real credit to the group. Well done to all who took part.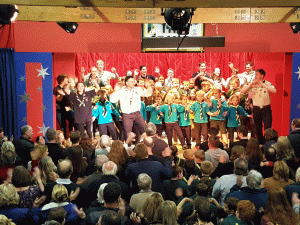 The Gang Show raised over £1,600 for the group, which will help us to provide affordable Scouting to the members of our group. We also raised £460 from the collection which will be split between our chosen charities (Harambee for Kenya and The Children's Society).