A number of Young People from the group attended Scout Speak Up training at Wilberforce Camp site in February, where they learnt lots of new skills about how to promote scouting and about public speaking. Following on from the Scout Speak Up training, Charlotte Miles and Katie Ainscough were asked to meet with a special guest of the Scout Association.
We have had to keep things secret up until now, but can now reveal that Charlotte and Katie were selected to meet Ellie Simmonds as part of Ellie's new role as an Ambassador to The Scout Association.
The Paralympic gold medallist joins, Olympic gold medallist Helen Glover, TV presenters Anita Rani and Steve Backshall, and adventurer Megan Hine as new Ambassaors – all of whom will work as positive role models for young people.  Bear Grylls has also accepted an offer to remain as Chief Scout until 2020.
A number of photos of the girls meeting Ellie have been used by The Scout Association, National and Local Press in order to promote the news of Ellie's new ambassadorial role.
Below are the thoughts of Charlotte and Katie:
"It was yet another amazing opportunity given to me through Scouting. It was a great experience to get to know more about her and chat with her. She was so down to earth and nice, she was interested in what we had to say about scouting and she even let us hold her medals!" – Katie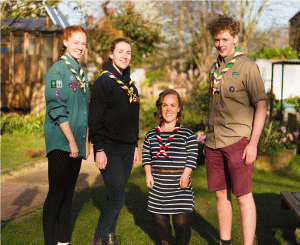 "We spent over an hour talking about Scouting and why Ellie wanted to become an Ambassador, as well as all the swimming that Ellie does, and everyday things such as school and hobbies. We taught Ellie how to do a friendship knot on a scarf and explained why there are different coloured scarfs. I learnt lots of things about the swimming and training she does, and what it felt like to go to the Paralympics. I really enjoyed meeting her as she really inspired me and it is something that I will never forget." – Charlotte
A number of articles were published about this in the local press:
The 23rd Bromley are honoured that two Young People from the group were selected to meet Ellie.